Trinity Heating and Cooling has the tools and experience to cover all of your heating, ventilation, and cooling needs!
---
Offering a variety of HVAC services to our clients in Meade, Breckinridge, and Hardin Counties. Contact us today and find out more about what services we have available for you
CALL TODAY!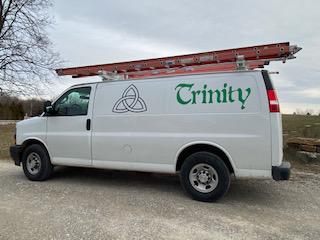 We're here to keep your home or business comfortable all year round.
Trinity Heating And Cooling is your one-stop service provider for your fix-it projects and needs. Our craftsmen have experience with a variety of projects and tasks and can help you save time and money while getting the job done right. We us the right tools and quality materials on every job we do. Contact Trinity Heating And Cooling for a free estimate.
We're here to help with your furnace, air conditioner, and ventilation equipment.
We are proud to offer knowledgeable sales, responsive and reliable service, and skilled replacement of your heating and air conditioning systems. Contact us today to schedule your next service appointment or for a free estimate.
We offer serveral different financing options for your convenience. Special financing can be used for repairs or replacements.
Apply for Financing